More than a decade ago, Darrell turned down the opportunity to run a busy agency in London, and go on a quest to help companies with a more positive message. Many of the companies he was working with had more to do with sending people to an early grave, than adding value to life. He had a bold vision – to build his own marketing agency that would 'use the media to finance community impact, globally', through expert story telling designed to add value and create empathy with the audience. Today, he shares the three most important lessons he's learned since then, and how having a clear mission for any business helps you in the tough times and keeps you grounded in the midst of success.
1. The only way to overcome your fear is to face it
Although Darrell has been running Cre8ion as a trading entity for just over a decade (more on that later) he has given talks on brand marketing at a range of events, including @NatWestbusiness and Insight Business Workshop, where he is no stranger to being uncomfortable. In order to achieve something big, you must dream big first. And the bigger you dream, the scarier it gets. "There's no point in denying the fear because it will always be there," he says. "But you can't let fear get in the way of stepping into the next opportunity." You need to find a way to get through it instead. One effective way of overcoming your fear is to have a clear mission statement to guide you along the way – having more faith in the reason why you started than the circumstances that surround you keeps you going through the tough times.
2. Having a clear mission statement is absolutely vital for your business
Darrell's number one advice for any start-ups is to "be clear on your mission and purpose." Not only does it help you overcome fear, a clear mission statement will guide your journey to ensure that you stay on the right path. "Whatever you do, don't change the mission," he repeats.
3. Stay flexible
It's important to stay flexible. Core values and a mission are not to be meddled with, but how you go about executing it can and will change. "If a door shuts, don't waver from your mission, don't compromise. Just crack on and find another way. Sometimes you also need to be brave enough to say 'no, we're not ready for this yet'. We might be in a few years, but not right now." While you're bound to make some mistakes along the way, don't overthink them but use them as learning experiences instead. "Life is short, and you don't want to spend it living in regrets – it distracts you from the present".
Darrell realised this while working for a busy marketing agency in London. He was a week away from signing important papers that would secure his place as a director and owner when he had a long conversation with his then girlfriend, now wife and Head of Editorial at Cre8ion, Clare. "Is this going to be my legacy?" he asked himself at the time. Although he worked on some great projects for Levis, Stella Artois, Virgin Holidays, Zurich, Allianz, NatWest as an art director, what was becoming clear was that there was more to the journey. Could the media mandate go deeper than just delivery?
The creation of Cre8ion
That's when Darrell decided to choose another mission. Having turned the opportunity down, Darrell stayed in Bristol and started to attend church with the girl who eventually became his wife (ah, nice story).
Over the next few years Darrell and Clare got more involved in church life as he went freelance while attending Carmel Bible Institute and got more involved with mission trips along with completing important charity works in Romania. It was there that the dots were starting to join and Darrell felt like a changed man.
His pastor Gerri Di Somma, now a close family friend, gave him lots of support and advice at the time. "He educated me on how we could make an impact, and use the media to do good things. Like, build a marketing agency that could influence the media industry in a positive way, with ethics at its core, showing good practice to others." As a result they co-founded Cre8ion to not only help the charity deliver their media needs with excellence but begin to offer their services to local businesses.
These values are very important to Darrell and the team at Cre8ion. Darrell says that going to church "keeps him on the straight and narrow."
Cre8ion was launched within the charity at Carmel City Church and continued to grow until October of last year (2016) where it officially became a limited company, with Carmel going global (Houston) and a dedicated team looking after the media in both Bristol and Houston.
The links remain with the church as among those roles, Darrell and his wife lead one of the church campuses in Clifton, Bristol.
When conducting business, he knows that he's accountable not only as a business man but also a pastor and a representative of the church and its values. He must always deliver on his ethics, making no compromises, and this actually makes it easier to connect with new clients and tell their stories in a powerful way, because Cre8ion are dedicated to delivering the best job they can.
Having Clare, as a wife and best friend, who 'gets' this mission and purpose, has been absolutely vital in the growing success of Cre8ion. "Clare knows why we are building what we are building and together we have made sacrifices to see its purpose fulfilled." Entrepreneurship is about having the right voices around you, that agree on the Mission and Vision but work together in delivering the best strategy – again, not always comfortable.
Helping others to achieve their dreams using Cre8ion's 360º marketing model
Since the start, Cre8ion's 360º marketing model incorporates a process of Marketing, Design, Digital, Editorial and Production that has been favoured by clients. It now has a proven track record of success, and new clients simply love this approach (we asked them). The initial workshop where a client, along with their team, can discover or clarify their mission, vision, and values, and discover the why behind their business, is often an eye-opening moment. It helps them articulate exactly what they're after as a business, and what they need to overcome in order to get there. Cre8ion have seen teams go from unfocused to all heading in the right direction and understanding why they are doing the journey.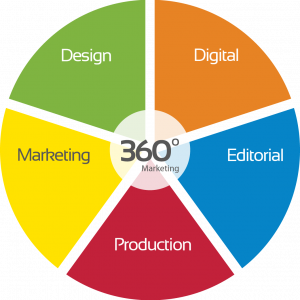 Best advice for start-ups and new businesses
"As well as living ours, we love helping others live their dreams," Darrell adds. "Whether it's an electronics company that want to be the world's best specialist for manufacturing electronics (Selectronic) or an art gallery that want to be at the forefront of the contemporary and modern art world (Maddox Gallery), it's a privilege to be part of their journey." Darrell also stresses the importance of enabling your employees to live their dreams, too. "People are your greatest asset. Make sure they're living the dream where they're working. If they're not, try to work out how they can, and invest in opportunities that will help them achieve the desired goals and keep life exciting. Monday morning should be an exciting time and work should not be a place where you dread to go. If everyday is an opportunity to fulfil your passion and dreams, then you are heading in the right direction."
Darrell's advice for new entrepreneurs is "take the pressure off yourself and just know that everything takes longer than you thought." In our so-called 'microwave culture' we're so used to seeing business success stories that happened seemingly overnight. While it sounds good in theory, life simply doesn't work that way. Anything worthwhile takes years of dedication to build and master.
For new businesses, building a good reputation is vital. It's a slow process as it can take years for word to get around. Of course, a good marketing strategy and social media campaigns play an important part in the process, but networking is absolutely crucial. "Networking is intrinsically linked to your 'net worth'. You can always learn from others and discover new opportunities for yourself. You'll never grow a business just sat behind a desk, so you need to get out there."
That's partly why Cre8ion recently took part in NatWest's initiative for new businesses with the Entrepreneurial Spark, program and, with their support, has transitioned into a brand new office at Filwood Green Business Park in Bristol.
Jump on board and become part of the journey
The next five years for Cre8ion are looking exciting. "Last October, we launched out fully as a limited company (wow, how a year has flown by). We plan to have other offices, not just in Bristol but elsewhere. We're thinking more and more about the future of brand and developing technology in the areas of machine learning. Working with Entrepreneurial Spark and partners such as DellEMC are helping us explore those particular opportunities. Our aim is to create industry-changing technology that would help start-ups and entrepreneurs to better market themselves. For us, this would open the doors to going global."
"Our mission of 'Using the media to finance community impact, globally" is fast becoming a reality as Cre8ion put the hours in to build a strong foundation to scale.
"This is all undepinned by our desire to use the media industry as a way to give something back to the community. We want to educate people and organizations who may not necessarily know much about marketing (schools, for example) to understand the principles of building a brand marketing strategy, while investing in community projects that give people a second chance in life."
Is it time to tell your story, too?
Our future is looking bright, and we'd love for your story to become part of ours. If you're thinking of stepping up your game with a brand new marketing strategy, or boosting your business with brand marketing, then get in touch with us today.