WordPress powers 27% of the Internet. That's a bold claim. But considering that 74.6 million websites (including ours) depend on WordPress, it might not come as a surprise. When we say WordPress, we don't mean templates. WordPress can do much, much more than that. Here's why we love it.
1. WordPress is more than just a blogging platform.
WordPress is a free open-source content management system (CMS). You may be thinking of WordPress as a simple and free platform for bloggers, but that's just one aspect of what WordPress can do. WordPress.com is where you can go to set up a free and easy-to-manage blog or a website with little or no web development experience.
But big brands, including The New Yorker, Sony Music and Marks and Spencer for Business, go to Wordpress.org to create and customise captivating bespoke websites. This is where we go to download the WordPress CMS and install it on our servers. We then manage the server, coding our own themes and designs to create bespoke custom websites. We also install any plugins to improve the functionality of the website. By relying on our own skills when it comes to designing and programming, we can ensure that the website we build is beautifully designed, fully functional and easy to update after it has been launched.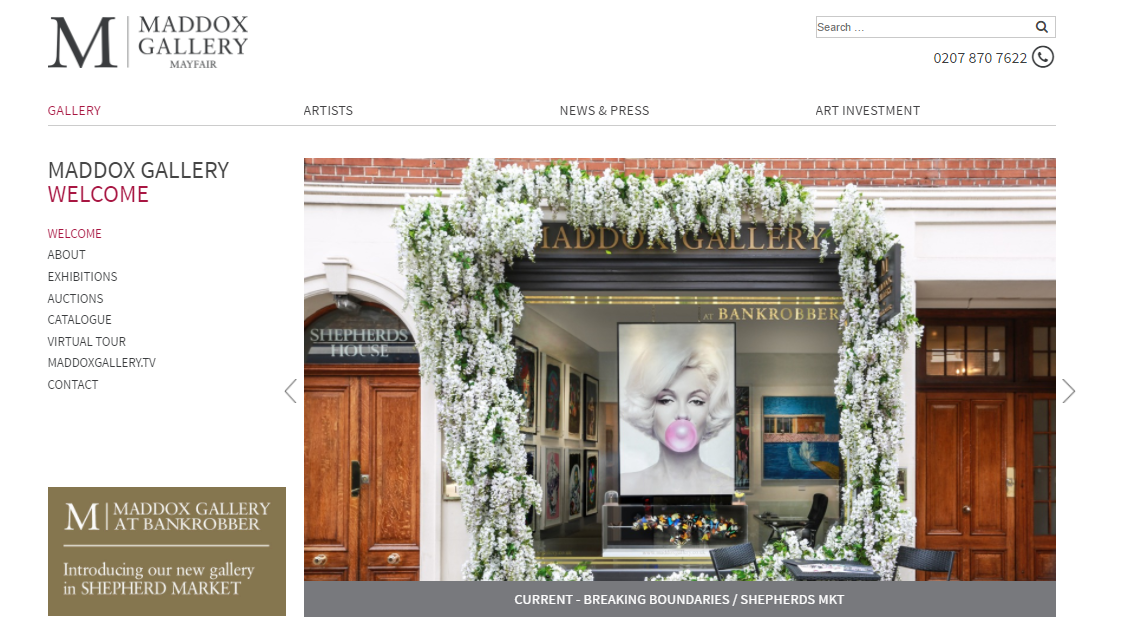 The landing page of our clients Maddox Gallery's website, built using WordPress.
2. WordPress lets you create your own visual design, rather than rely on templates.
To make the most of WordPress and create a sleek and original website, it's important to employ a professional who can design the website from scratch. There are some horror stories circulating the digital marketing agency circles of clients who have asked for a new website to be designed and built, only to find out later that the website they thought was unique to them, had actually been built using an existing WordPress template. Not only does this limit the scope of the design possibilities, it can also be detrimental for the SEO and prevent you from making important changes to the website in the future.
At Cre8ion, we always build our websites from scratch. It all starts with a workshop with you as a client, after which we come up with three creative brand concepts for you to choose from. The website design is birthed out of your chosen brand concept, and we design the full visual idea in Photoshop before we build it in WordPress, ready for your big website launch. We call it 'pixel-perfect design'.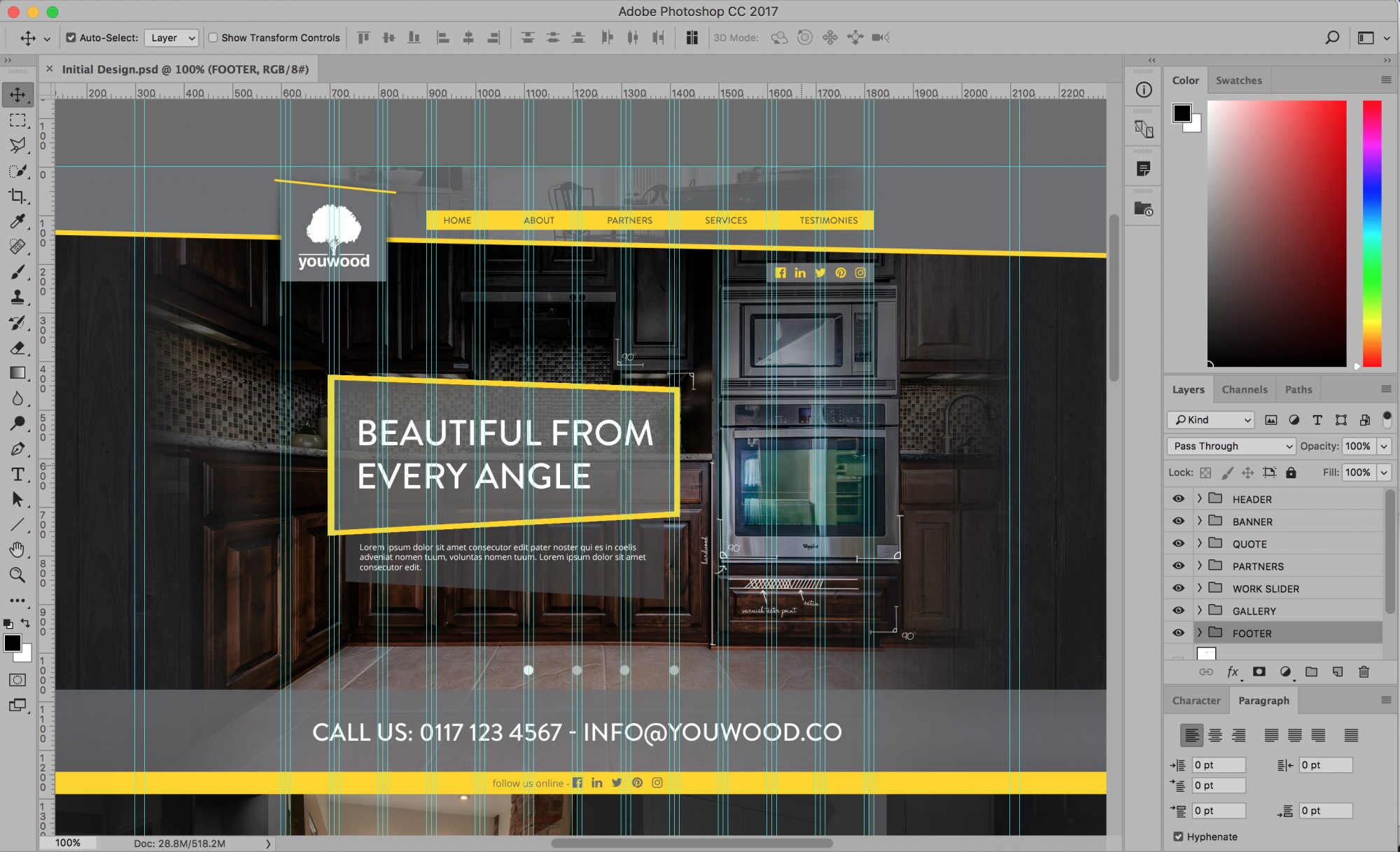 The website design for our clients Youwood, designed in Photoshop.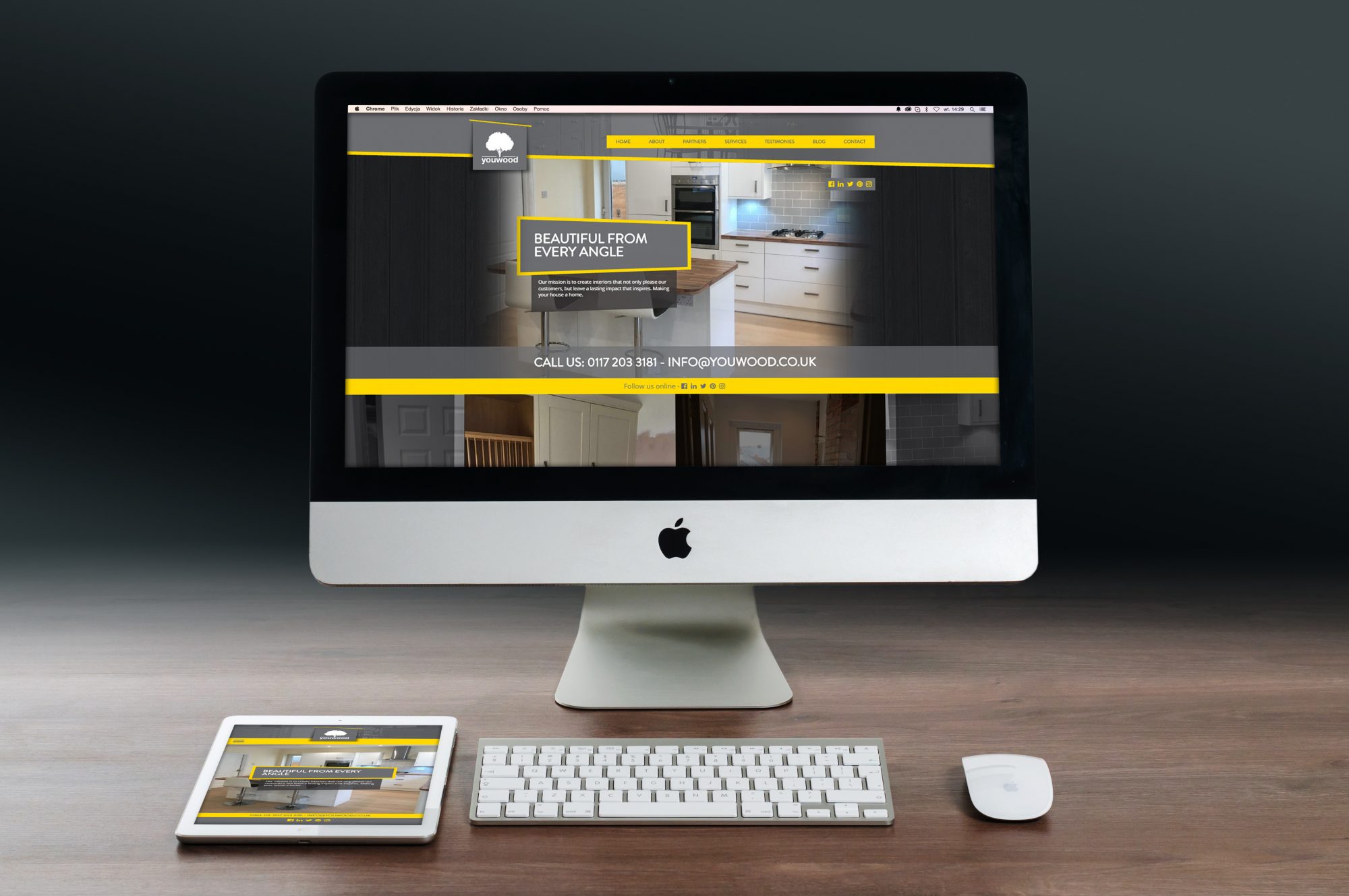 A snapshot from our client's, Youwood's current website, after it was designed in Photoshop and built in WordPress.
Because we never use templates, we are never limited in what we can do to tell your story visually and build a website that you'll love. We fully design the final idea in Photoshop to allow you to see the final concept exactly as it will look as a website before it goes live. Our 'pixel-perfect' design means that you won't get any surprises after you've signed your project off.
3. WordPress and Search Engine Optimisation (SEO) go hand in hand.
You have probably heard of SEO – the magic word that can transform your website into a traffic-making machine. In essence, if you want new customers to be able to find your website, you need to climb the 'Google ladder'. The goal is for your website to come at the top of Google search results, whenever a potential customer searches for your product or service. To achieve this, it's crucial that your website is fully optimised for search engines. Wordpress offers several plug-ins that can be installed on your website to boost the SEO rankings, such as the Yoast SEO, making the process easy.
But at Cre8ion, we take it a step further. Because we manage all coding and design 'in-house', we can ensure that we build with SEO in mind right from the start with correctly positioned headings, alt tags and much much more. And once the website has been built and launched, our editorial team can then update it with regular content that helps to boost your SEO and improve your Google rankings.
4. WordPress lets you update your own content with minimal training.
While we are always a phone call away after we've built your website, you won't have the need to be on the phone to us 24/7 to fix minor issues or changes to the content. With minimal training, you or anyone in your team will be able to do it in no time! This is because WordPress allows us to create different logins for users. This means that anyone in your team can be assigned an account, that they can use to log into the company website and update the content.This gives you more control and freedom over your content.
5. WordPress lets you decide who gets access to what.
What's more, with WordPress we can set up different user privileges, allowing you to filter what sections of the website each member in your team can access and edit. And because WordPress is such a popular site, there are thousands of user guides available online. If it's happened with you, it's happened with someone else, and the solution has already been posted somewhere on a WordPress forum.
If you're looking for a creative team to boost your marketing strategy and build a stunning website for your business, then look no further. Here at Cre8ion, we have a talented team that can build your brand, complete with a website, and distribute it across multiple media streams. If you're ready for the ride of your life, get in touch with us today.