We started Purpose People as a community on Facebook and have steadily grown the numbers within the online group to encourage people on their journey to live their best life.
The resulting success of the regular interactions and feedback led to us creating The Purpose People Podcast. Now, having broken 40+ episodes, we are marching towards our goal of 1,000 subscribers, with viewing figures continuing to flourish.
So, what makes Purpose People so close to my heart and why create the groups? Quite simply, good people need a break. The last few years have been tough, and thriving has been replaced with a sense of just wanting to survive. We can lose touch with the voice in our heart when our head gets clouded and we fail to see those opportunities that once got us out of bed, excited.
The Purpose People Podcast has elevated the voice of purpose among a diverse crowd of people and introduced me to some amazing people who have all made a choice to build an impactful life. In the midst of tough times, they have doubled down on purpose rather than run away from it.
Watch the latest episode by clicking the image below…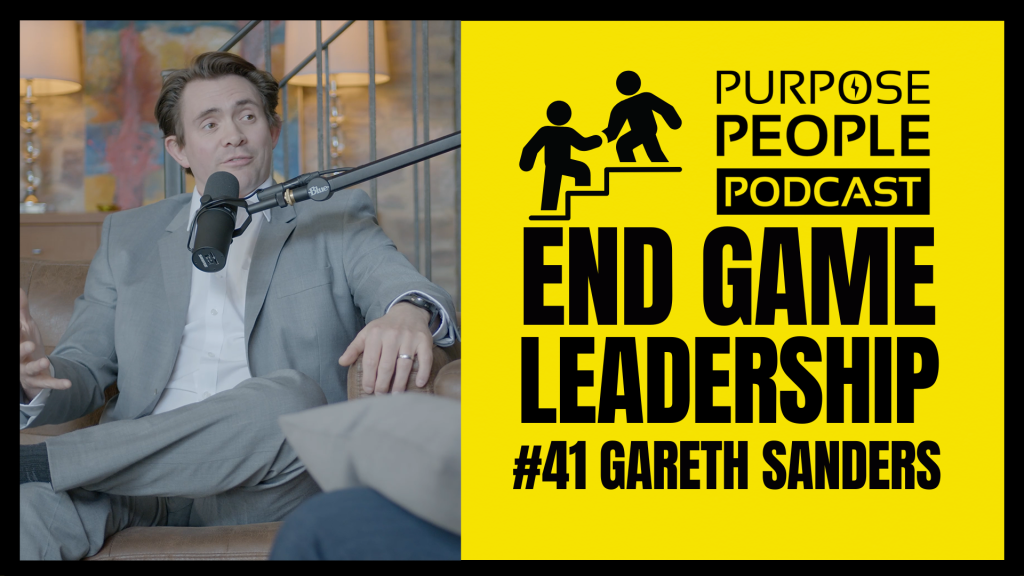 With each episode I have seen trends unfolding, the most notable being that these people seem to start in one line of work or study and then pivot out. They made a choice away from doing what was expected of them, to do what they really wanted to do. People always seem to reach that pivot point and then want change. Purpose People want more than a job, they want to make an impact.
The key thing to remind ourselves of is our 'fit'. Not everyone fits in one job forever, or maybe an approach that used to work no longer 'fits'. People change as they discover their identity, and finding our fit can take time. We are not static, but when we make that shift it should have more to do with conviction of heart rather than just circumstance.
Investors, for example, look beyond one or two years, they look at 100-year trends. If they were viewing the market through a small window of time they would most likely cash out in a recession. However, knowing that there is a cycle that plays out over the years allows you to prepare and endure. Choices can be made based on the bigger picture rather than focusing on the short term.
Life is a process and at some point, you gain a sense of what works for you. Being self-aware allows you to see patterns, then you then find your fit and adapt accordingly. Spotting patterns and acting on them is what purposeful people do.
Purposeful people know about the difference that taking action makes. These brave people follow through when they discover patterns, they identify the change and embrace the adventure.
When you find your fit great things happen.
It's a bit like the way clothes fit. My footballer's thighs, which helped me on the football pitch, aren't always great in the high street shops when I'm looking for a pair of trousers. When I find a pair, it is less about waist size and everything to do with fit. I have to go for a larger waist size to accommodate my legs.
The reality is that I will never have skinny legs. Yet, in the process of finding the right fit, I discovered that the sizes on the label are not consistent. A 36 in one shop isn't the same in another! Asking women, it is even worse. A size 10 in one shop is a 6 in another.
When I find the right fit I'll buy a few pairs (in different colours) on the spot as that 'fit' is rare. For me to feel good, it needs to fit right and when I find that fit, I'll invest in it.
Having the right people around you makes the journey easier and while I am not always in contact with the same people, I believe that when you find the right fit, you'll stay connected and pick up where you left off.
I realised that we tend to connect mostly around the season we are in. For instance, in tough times you need people that lift you, not continually paint the darkest of pictures (yes, you need reality) but bring hope and remind you of why you started.
Knowing the right fit helps you create special things in the midst of crisis (I even wrote a book on that subject)…
Some people are great for every season (my wife for instance) but as seasons change so will the people in your life. As my children get older, new worlds and friends open up and I realise I will not always be top of their list for entertainment!
So what makes you a Purpose Person?
Here are a few observations and feel free to add a few more…
You major in the majors.
You are born for majors and while you make small steps to get to your destination you don't allow one step to hold you from dreaming big. People with vision often get swallowed into the small things. Majoring on the minors can be a comfortable thing to do but you need to extend the borders of control.
You exude energy, you don't zap it.
Your conversation lifts the room, it doesn't bring it down. I've learned that I don't have the time for it and have chosen to not allow energy zappers. The energy zappers look to steal your time discussing people rather than purpose. They have a strong opinion of a person without knowing or taking the time to find out their story.
Lifting people is hard, and some people actually don't want help, or see a fresh perspective and are content with drama rather than positive action. However, when people finish a conversation with you, they feel better for it. The world looks better for knowing and having this kind of conversation.
You are motivated by an inner voice.
I can encourage you, but ultimately you need to be your best champion. A leader that desires constant back-patting can't lead. A leader by definition is more concerned about purpose and not praise. Yes, it is nice, but it shouldn't be the main thing. Nobody will fully appreciate the role you play as a leader unless they do your job.
I struggle to celebrate wins, and maybe it's because I've learned to find balance rather than get carried away. Yes, enjoy the moment, but purpose needs continual pursuit, and there is always someone else needing help.
You understand that negativity is like kryptonite.
When you hear "I was just trying to be 'devil's advocate'". Really? You want to work with the devil! Yes, it is good to have different viewpoints to build a better picture for everyone, but those that pride themselves on being devil's advocates rarely bring anything to the table other than gossip, pain and insecurity. For all you heroes, run, fast!
In the same way that kryptonite was poisonous for Superman, consistent negativity will hurt you. A change of conversation around peers (those on the same level of responsibility) will help significantly. They give you fresh insights!
You know perspective is everything.
Sometimes nothing like a good old walk gets you perspective but gaining it helps significantly. You learn that life isn't about perfection but about making progress.
Gaining perspective quickly helps you get clarity for the moment and maintain momentum.
Ask yourself where things are working. Are there successes where you can see the progression? Take a deeper look into some of the evidence and you'll find there is actually more to be grateful for.
Sometimes we fall into entitlement and miss the fact that we have a roof over our head, family around us, a job etc… Gratitude fixes our attitude and purposeful people quickly spot the drift and start living and leading with that.
If you are struggling around purpose or need some perspective it's time to look up and look out. Be thankful for how far you have travelled and while times may appear tough and the news suggests that there is no escape, learning to rise above it gives us an overcoming attitude.
Purpose People from Facebook Group to Podcast are just like that, their attitude has determined their altitude.
If you need more people like that, then join the group and start listening to our podcast. If you need further support just send me a DM as I'm always happy to help!