We often struggle to keep our attention focused on one thing, whether that's reading an entire article or following a conversation without drifting off. Your customers are no different. Whenever they land on your page, you only have a few seconds to capture their attention before they go browsing somewhere else. You can do it by fixing these five most common web design mistakes.

Not using Responsive Design
When it comes to digital marketing, Responsive Design is the magic wand that makes your website look good on a range of devices, such as a laptop, a smartphone and a tablet. If your website was originally designed on a big screen, the look may be completely distorted when you shrink it down to a mobile size. What's more, Google will actually rank your website higher in search algorithms, the more mobile-friendly it is. At Cre8ion, we never compromise beautiful design – if it looks great on a desktop viewer, we'll make sure that it looks just as great on a mobile browser, without losing any of its functionality.

Using a free website builder
Where do we even begin with this… Free website builders will never give your business that unique look and feel that original design will. Sure, it may be cheaper, but you'll need to invest tons of time in learning how to use the tool. And when you do, you're still limited to a set number of templates and fonts. And who knows who else is using them? If you decide to be brave and modify the templates, you'll need to learn theories of colour compatibility, fonts and layouts that can take web designers years to master. Bottom line – don't use a web builder if you want to create a unique website design for your brand that will make your company stand out.

Making core information hard to find
Your website is like a business card for your services or products. So you need to ensure that your core information (who you are, what you sell and how to contact you) is easy to find. Avoid long, detailed paragraphs or confusing colours. The information needs to be there, in front of your customer as soon as they land on the page, summing up your business in a short and concise way. In the words of Cre8ion's Head of Digital George Tunnah: "Keep things simple. If you can say it in less words, do it."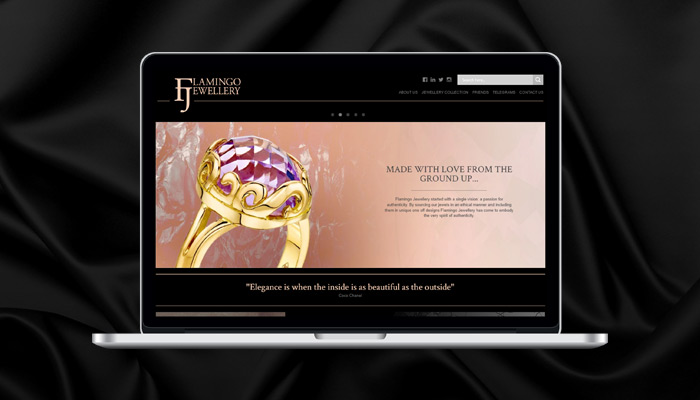 Here's a website we designed for our clients Flamingo Jewellery to showcase their new high end, luxury look.
Missing a 'call to action'
As well as promoting your brand and products, you also want to capture the details of those who visit your website. This is a good way to build a reliable database of leads, as these people have already found your business, and may just need a little nudge (say, some timely email marketing or a freebie) to be converted into customers. So it's essential to include a 'call to action' in a prominent place on your website.
For our clients the London-based personal mortgage advice company Oportfolio, we ensured that a 'call to action' was prominent on every page of their website, without looking repetitive.
Not having any follow-up content
So how do you know that your website is actually working? How do you know if it's attracting the right type of customer – or attracting anyone, for that matter? Website analytics is a fine science, so here are two things that need to come after you've designed and launched your brand new website: follow up content and traffic analysis. Blogs are a great way to boost your traffic, especially if you use SEO keywords and content that will rank you higher on Google. You can read more on that on our previous blog post.

Did you tick any of these boxes? It may be time to redesign your website. Luckily, we're here to help – get in touch with our friendly team today to see how we can take your website to the next level.