When you have a business in finance, you want your clients to think of trust, expertise and credibility. If you're thinking of investing in a new brand marketing strategy that spells out those qualities, you need to ensure that you've covered the three core elements of building a successful brand in finance and investment, using one of our latest clients Greg Latchams (GL) Integrity Financial Planning as a case study.
1. Get clear on your mission, vision and values
As part of our 360 marketing workshop, we can help you identify what these core elements are. In everything we do, we try to find the why behind your business. With so much competition out there, you need to make sure your business stands out from the crowd, and this can only be achieved by building a brand, based on your unique values and motivations.
Case study: Although GL Integrity Financial Planning deal with investments, they are not interested in money for its own sake, but purpose-driven investments. This ethos provided us with the foundation stones for building a strong and authentic brand.
2. Choose the right brand colours
So often, colours say more than words. When a potential client comes across your website or reads your brochure, they will get a sense of your business and its values from the visual material that they see. We've covered what colours spell out honesty, trust and financial security in one of our previous blog posts 'Brand Marketing and the Psychology of Colours'.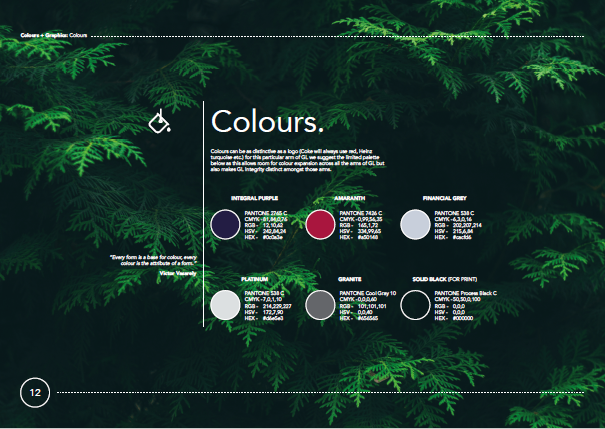 Case study: For GL Integrity Financial Planning, we've chosen a palette that includes integral purple, amaranth, black and granite among other colours to spell out their core values of purpose-driven investments.
3. Use the right brand language
When building a brand in finance, you want to make sure you're using words that convey trust, expertise, influence and inspire confidence. So it's important to avoid any words that make your business sound unreliable or unsure of its direction. Whether you're writing copy for the main page of your website, drafting a social media post or sending out email marketing newsletters, to make sure you get the brand language right every time, consider investing in a brand guidebook. For more reasons why your business should have a brand guidebook, read our previous blog post or contact us today and find out how we can help you build a finance or investment brand that customers trust and recommend to others.